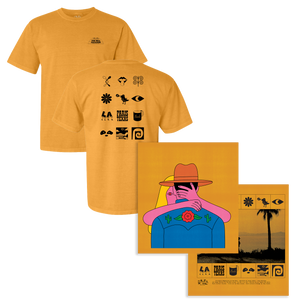 Tim Hill - Payador LP & Tee Bundle
Regular price $45.00 Sale
Tim Hill's debut album Payador on Calico Discos
Art by Gabriel Alcala and John Zabawa
A ladybug on a warm leaf, a lazy dog asleep on a diving board, a
thirsty LA scene wrapped in a tequila duvet. Tim Hill's songs
stall you in a cul-de-sac of forever summer, offering all shades
of sonic blue, blurred Mexican mirages and the heavy velvet of
a closing night.
Los Angeles born. Whittier grown. He translates what he
knows; a hometown where the Dodgers rule the roost, time
carved out for slow endeavors is paramount, and coffee is the
blueprint for the day.
He seasoned his musical skillet as a keyboardist touring with
artists such as Nick Waterhouse, Curtis Harding and the Allah
Las. In 2018, he released a 45 entitled "Paris, Texas," b/w a
cover of Warren Zevon's "Steady Rain," under the Allah Las'
label, Calico Discos. His presence mirrors the soul of a
weathered saguaro as he pushes loveless notes through an
apathetic ache. The audience sways to the molasses and is
given a glimpse of what it would be like to not care.
Tim Hill's full-length release, "Payador", puts itself on the
villa's shelf, painted with sounds of introverted West coast
visions. Some songs are fraught with above-the-palm tree
vocals and lonely harmonica solos while others park their front
tire on top a warm Hollywood curb. Its full throttle suburban
shade, acoustic strands of sun and that Spanish radio station
floating from your neighbors window.
Each bundle purchased plants a tree care of the One Tree Planted Organization.